SandCity
/ We are in Lagoa
EASY AND FREE PARKING

With more than 300 free parking spaces with easy access entering directly through the National 125, the Sand City Park between Lagoa and Albufeira is extremely easy to access.

5 HECTARES OF EXHIBITION & 120 SAND SCULPTURES

There are more than 5 hectares of open-air exhibition and more than 120 different sculptures to see, traveling on foot or using a small electric buggy that is available for rent inside the exhibition grounds.

It is advisable to wear suitable footwear for walking on unstable surfaces such as sand or gravel.

FULL DAY TICKET

Imagine visiting the park in the morning and discovering that you would like to see the exhibition lit up again, purchasing the ticket for the exhibition does not limit the visitor to the entry period, our visitors have the opportunity to come back later and visit the park on the same day (more information on site).

FUN FOR THE SMALLEST

The little ones have at their disposal a playground and an area where they can give free rein to their imagination and create their adventures in the sand.

PET-FRIENDLY PARK

Because many families are not only made up of humans, SAND CITY, as an animal-friendly park, invites them to be part of the visit as long as their owners do not bring them on a leash and if necessary, a muzzle.

MEAL SPACE

Scattered around the park and in areas that invite contemplation and relaxation, there are places to eat or, if you prefer, there is always a small snack bar available (depending on the time of year) that offers a variety of light meals, cold drinks, or a simple coffee.

WONDERFUL FEET

At the end of your visit to Sand City, you have a Fish-Spa service that, after so much walking, our "medical" fish will do wonders for your feet.

MEMORIES OR SOMETHING DIFFERENT

Nothing like a souvenir of the time you spent with us, buying an original souvenir to give to your family and friends, visiting the souvenir shop, and choosing from dozens of different items.

REDUCED MOBILITY

For visitors with reduced mobility, the enclosure presents some difficulty because it has some areas of looser sand and gravel, but even so, not wanting to deprive anyone of the possibility of visiting us, we offer the possibility, depending on space and weather conditions, of a few free minutes of buggy to visit the exhibition (more information on site).

SAND CITY, prepare to be dazzled.
Fish spa

Wonders at your feet
Originated in Turkey, the "Garra Rufa" or "Medical Fish", is about renewing the skin of your feet, contributing to a well-being in this body area so often neglected by us.By putting their feet in the tank, the fish of this peculiar species that has no teeth, suck the dead cells in the skin, sometimes causing exhilarating sensations for those who are sensitive.Smooth skin and stimulation of blood circulation are some of the most immediate effects for those who use this type of foot skin regenerating treatment.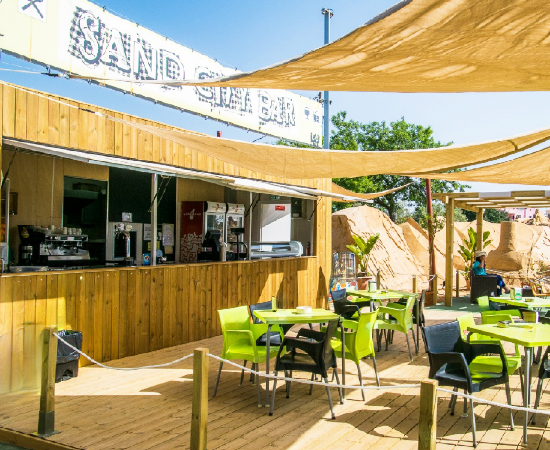 Snack Bar

A stop to rest
You can't leave without visiting our Snack Bar, a mandatory stop for everyone who wants to enjoy the exhibition, enjoy a hot or cold drink with a light meal.Sandwich, Pizza or Hamburger, there is no shortage of variety, in the end, lovers of good coffee should be accompanied by a spectacular pastel de nata.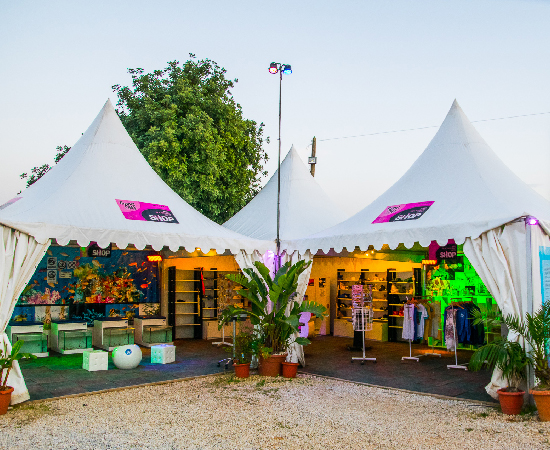 Store

Take a souvenir
A must-visit place to choose the original souvenir to offer or an article so that you don't forget your visit to the largest exhibition of its kind in the world.If you need a souvenir, cold drinks, coffee, water or ice cream, just stop by our shop.