SandCity
/ We are in Lagoa
EASY PARKING
With access directly from the national road EN125, between Lagoa and Porches, you will find the Sand City enclosure and its large and easy-access car parking with more than 300 parking spaces, also for buses.

5000 M2 OF EXHIBITION & 120 SCULPTURES IN SAND
There are more than 5,000 square meters of open-air exhibition and more than 120 different sculptures to be seen on foot or in a small electric buggy that is available for hire inside the exhibition grounds in our shop.

Appropriate footwear is advised for walking on uneven surfaces such as sand and gravel, which also presents some degree of difficulty in the mobility of strollers.

SAND CITY ELECTRIC BUGGY
Sand City, as the name implies, is almost like an authentic city, with some size and several paths built with sand. Therefore, and because cars are also part of mobility in cities, we have electric buggies available for hire at the exhibition grounds that make the Tour of the Worlds in the Sand City even more fun.

FUN ACTIVITIES FOR CHILDREN AND GROWN-UPS
One of the exhibition's complements, in the Sand City enclosure, is an area, under a charismatic dome structure, dedicated to sand sculpture activities, where both the youngest and the oldest, can give free rein to their imagination and give a try to create a sand sculpture. This is a free, unmonitored space, available during all Sand City opening hours.

PET-FRIENDLY ENVIRONMENT
Because many families are also made up of their beautiful companion animals, Sand City allows them to be part of the visit, as long as they are on a leash and if necessary a muzzle and the owners have a spare bag to catch any waste that may happen. We appreciate your attention so that your pet, when you visit us, is already relieved, with its needs done prior in an appropriate place, in order to avoid this happening during the visit at Sand City. In the enclosure, if you forgot and need a bag for this purpose, you can request it on-site, in our store.

AREAS OF REST AND CONTEMPLATION
Scattered around the enclosure there are areas that invite to contemplation and relaxation, with tables and benches in the shade, to sit and observe the surroundings of the sculptures, as well as some plants and flowers that inspire and spread color throughout the exhibition grounds.
In the Sand City enclosure, you can also relax and stay longer (depending on the time of year), in a small snack bar where you can find some light meals, cold drinks, or a simple coffee.
It's not allowed to bring any food or drinks inside the Sand City enclosure.

WONDERS ON THE FEET
Sand City has a Fish-Spa service where our "doctors" fish will do wonders for your feet, enhancing relaxation and a feeling of lightness.

SOUVENIRS OR SOMETHING DIFFERENT
Nothing like a souvenir of the time you spent with us, acquiring an original Sand City souvenir, or any item you may need during your visit to our city of sand or something to use on your holidays in the Algarve. Right after entering our enclosure, you will find our store, where besides the articles you can watch videos of the construction of the sculptures, as well as other curiosities and get information about complementary activities that may take place in the enclosure.
Here you can also call a taxi to take you to your accommodation.

REDUCED MOBILITY
For visitors with reduced mobility, the floor of the enclosure presents some degree of difficulty, as it has areas of looser sand and areas with gravel. In these cases, depending on vacancy and weather conditions, Sand City offers a few minutes of free use of our electric buggy so that everyone can visit the exhibition of the sand sculptures (more information on-site in our store).

SAND CITY AMAZING, prepare to be dazzled.
Fish spa

Wonders at your feet
Originated in Turkey, the "Garra Rufa" or "Medical Fish", is about renewing the skin of your feet, contributing to a well-being in this body area so often neglected by us.By putting their feet in the tank, the fish of this peculiar species that has no teeth, suck the dead cells in the skin, sometimes causing exhilarating sensations for those who are sensitive.Smooth skin and stimulation of blood circulation are some of the most immediate effects for those who use this type of foot skin regenerating treatment.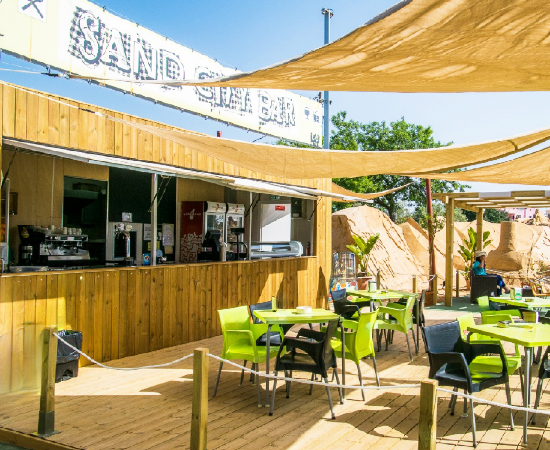 Snack Bar

A stop to rest
You can't leave without visiting our Snack Bar, a mandatory stop for everyone who wants to enjoy the exhibition, enjoy a hot or cold drink with a light meal.Sandwich, Pizza or Hamburger, there is no shortage of variety, in the end, lovers of good coffee should be accompanied by a spectacular pastel de nata.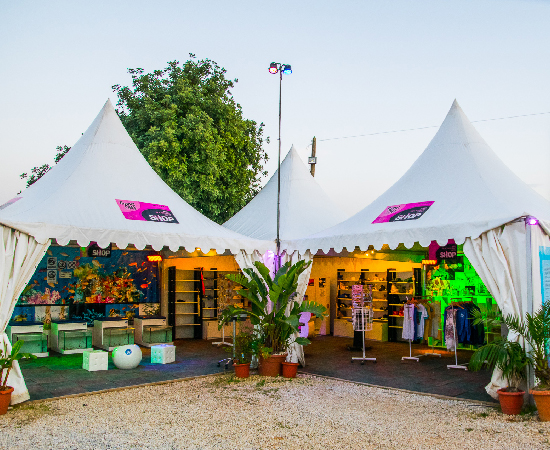 Store

Take a souvenir
A must-visit place to choose the original souvenir to offer or an article so that you don't forget your visit to the largest exhibition of its kind in the world.If you need a souvenir, cold drinks, coffee, water or ice cream, just stop by our shop.